What to Ask About Your Doctor's MIS Practice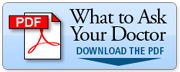 The following are some questions you should ask your doctor about his/her practice if you are considering Minimally Invasive Spine Surgery (MIS). You can also download these questions as a printable PDF to bring to your doctor.
What percent of your practice involves MIS?
How long have you been doing MIS?
How many MIS procedures have you performed in the last 6 months?
What training have you had in MIS surgery?
Do you present your work on MIS at peer-reviewed scientific meetings and journals?
Are you Board-certified by either the American Board of Orthopaedic Surgeons (www.abos.org) or the American Board of Neurological Surgery (www.abns.org)?*
* Nationally recognized Board-certification entities are listed in the American Board of Medical Specialties (www.abms.org). The ABOS and ABNS are currently the only recognized Boards for spinal surgery.