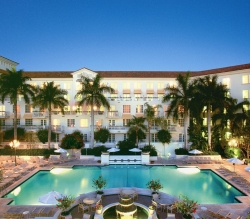 Turnberry Isle Hotel & MARC Lab
Miami, Florida
The SMISS Global Forum 2014 was held at Turnberry Isle Hotel in Miami, Florida. The 2½ day scientific program included case discussions on various patient types; such as obesity, osteoporosis, patients undergoing revision surgery, patients with low back pain, and deformities or traumatic spinal injury. Attendees participated in Problem-Based Learning sessions and heard over 110 oral presentations centered around the Advances in MISS Research. Three guest lectures included a discussion on Value-Based Healthcare by Dr. Jens Deerberg, the President of the International Consortium for Health Outcomes Measurement (ICHOM). The SMISS Global Forum 2014 provided more opportunities for greater academic exchange and enhanced the learning experience of the participants.
In addition, the scientific abstract entitled Comparative Clinical And Economic Outcomes Of Minimally Invasive Surgery For Posterior Lumbar Fusion: A Systematic Review And Meta-Analysis was awarded Best Paper to Dr. Raja Rampersaud for his oral podium presentation.
Want to see more? Please view our SMISS Global Forum 2014 Photo Gallery on Facebook - like us and "tag a photo!" Want to hear more? SMISS will post videos of the presentations and lectures within the next month** as well as the demographics and results from the Problem-Based Learning sessions.